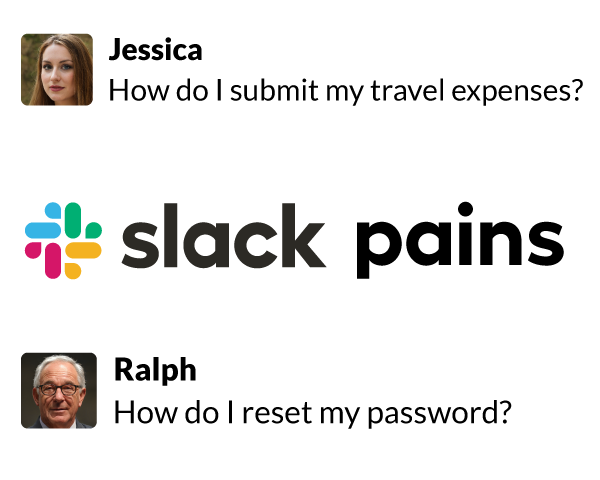 If you're a tech worker like me, Slack is likely one of your most used tools to communicate with your team. The explosion in remote work brought on by the pandemic has been one of many tectonic shifts in our day to day lives. Remote working tools, like Slack, have seen their user bases explode, even in industries that were previously not very remote friendly.
This explosion and rapid transition to remote work with our existing tools revealed to me some growing pains. What I observed as more and more work began to take place on Slack was that tons of information was being shared among teams that got buried by other messages or siloed into specific channels. I saw that in common channels where many people get help to do basic tasks, like IT or business development, the same questions were asked nearly every day. These questions ranged from "how do I reset my password on X service" to "how do I use X internal framework to accomplish Y".
Defining the Problem
If you're a team lead, or just supporting people to do their daily work, you've likely seen the same problem I've seen. Ask anyone who asked a question if they used the search bar or checked internal documentation before posting, the number who did probably will be slim to none! I thought to myself, what if this process was automatic? What if someone could ask their question as they normally would and immediately be presented with information from past conversations?
I had a good feeling that I was not alone in my experience, so I set out to find where other Slackophiles were having trouble. I reached out on Clubhouse, LinkedIn, and on Twitter and got some really great insights from avid users, conducting interviews with people in engineering, sales, and marketing. There were three pain points that came up repeatedly:
Slack users will pop into a support channel and ask a question that is frequently asked, maybe even earlier that same day
Conversations take place in one channel that may be relevant to questions that are asked in another channel, so information gets siloed
Documentation often doesn't get written about topics that were discussed at length in Slack
For me, this more or less confirmed that I was onto something. There is an issue with 1. Repeated questions and 2. retrieving useful information in Slack.
Here we come, Slack App Directory
I will save the engineering story of building Truffle for another day, but on May 5th, 2021, the app was approved for listing in the Slack App Directory. The result of many months of sweat and collaboration with potential users was Truffle.

A pig rooting for Truffles in your Slack, get it?
The feature set of Truffle is very simple. When Truffle is added to a Slack channel, it immediately begins searching threads that it finds interesting based on topic, engagement, and so on. It adds these little nuggets of information to its knowledge base, saving them for later, marking them with a 🧡 reaction.

Something useful Truffle found
Truffle will also monitor the channel for important conversations as they happen. Then, when a user asks a question in a channel that Truffle belongs to, it will check to see if it knows anything that could help answer that question. If it finds anything, it will discreetly prompt the user to use Truffle to answer their question.
Discreetly prompting the user when they ask a question
If they choose to see the results, they will get a direct message from Truffle with the top three relevant threads.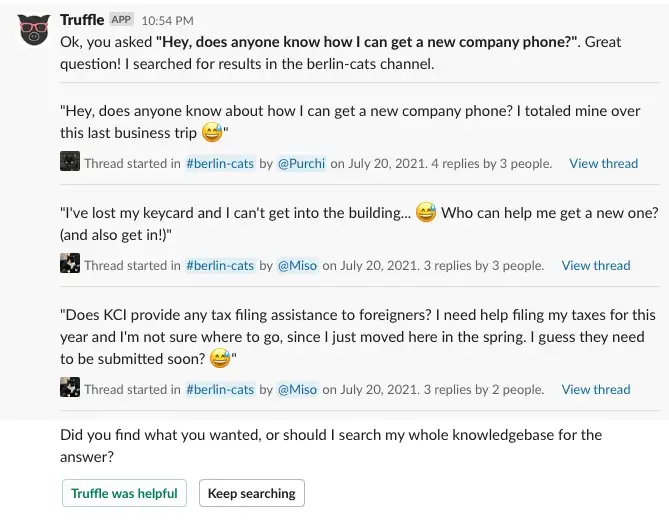 The results sent in a DM to the user
Does this solve the pain points?
The feedback I have gotten so far, both from user interviews and from the analytics, has been good. Many users find that the contextual prompt given by Truffle is useful, especially when they know there are already relevant results available to them with one click. The features have a lot of potential to evolve, and I see a lot of possibilities in this product. I believe automatic knowledge management is a huge opportunity, and given the pain points, is something that will soon become the normal way we leverage the conversations and content created throughout our daily work.
Sounds great, I want it!
Good news, Truffle is free to use in one channel in your Slack workspace! You can simply try it out by heading over to the trial page and adding to Slack.
If you want to keep up with product updates and more information about the product, follow the Twitter or LinkedIn pages.
Thanks for reading!