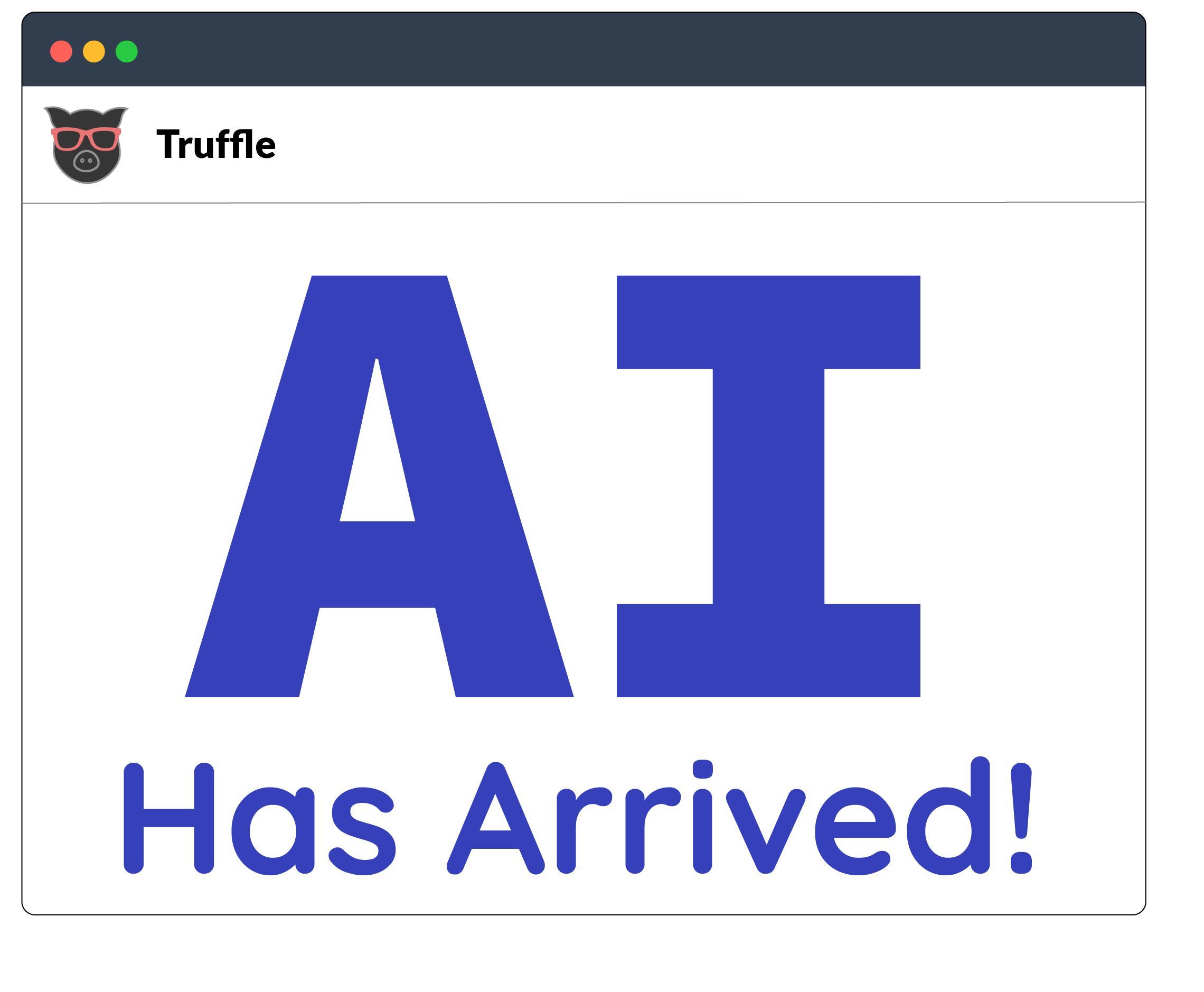 We designed Truffle to solve two common Slack pain points:
Important information gets lost in Slack
The same or similar questions are asked repeatedly in public channels.
I've personally experienced this problem while working for larger companies. You've likely experienced it as well, especially if you've had to provide support across teams: the same questions get asked over and over and over!
Truffle tackled this problem in the past by searching Slack threads when a question was asked in a channel, which worked reasonably well, and longtime users appreciated the immediate help they received.
Problem: Identified ✅
Solution: Not perfect, but headed in the right direction ✨
What we discovered people needed were real answers, not just links to past threads!
Now we've put AI and advanced search technologies to work, bringing you a smarter and more intelligent Truffle. With that, we are very excited to announce the launch of Truffle AI!
Truffle AI now summarizes Slack conversations in channels where it is installed, building a question and answer repository. Then, whenever someone asks a question in those channels that Truffle belongs to, Truffle synthesizes it's knowledge and creates a unique answer to the question.
Gone are the days of siloed and lost knowledge - Truffle brings up the insights and answers you need automatically, based on the context. Not only will you no longer lose important knowledge in Slack, but it will also be resurfaced automatically as your team communicates with each other!
In this post, we'll walk you through the exciting new features of Truffle AI and show you how it brings Truffle closer to the original vision: To use your Slack conversations to generate documentation and answer questions automatically, making your team more efficient than ever before.
Core Functionality
After adding Truffle to a channel, Truffle gets to work scanning the channel history for interesting threads. Each thread gets summarized into a question and answer format, even if the thread was not a question to begin with. This will help Truffle generate answers in the future when someone asks a question. Truffle marks every thread it adds to its knowledge base with a 🧡.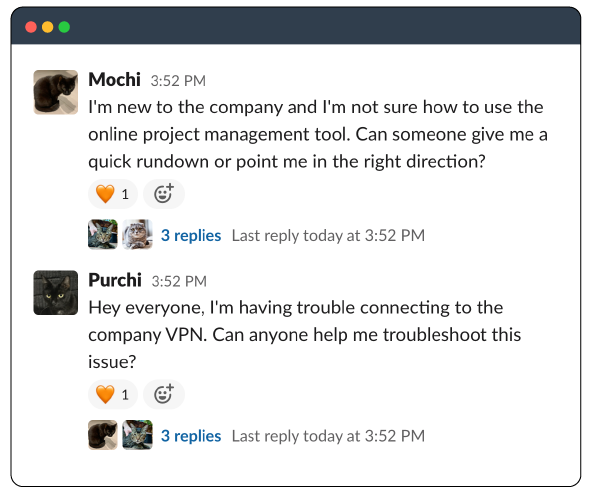 Truffle Converts your Threads to Documentation
As your team generates content in Slack, Truffle will condense it and put it into a question and answer format.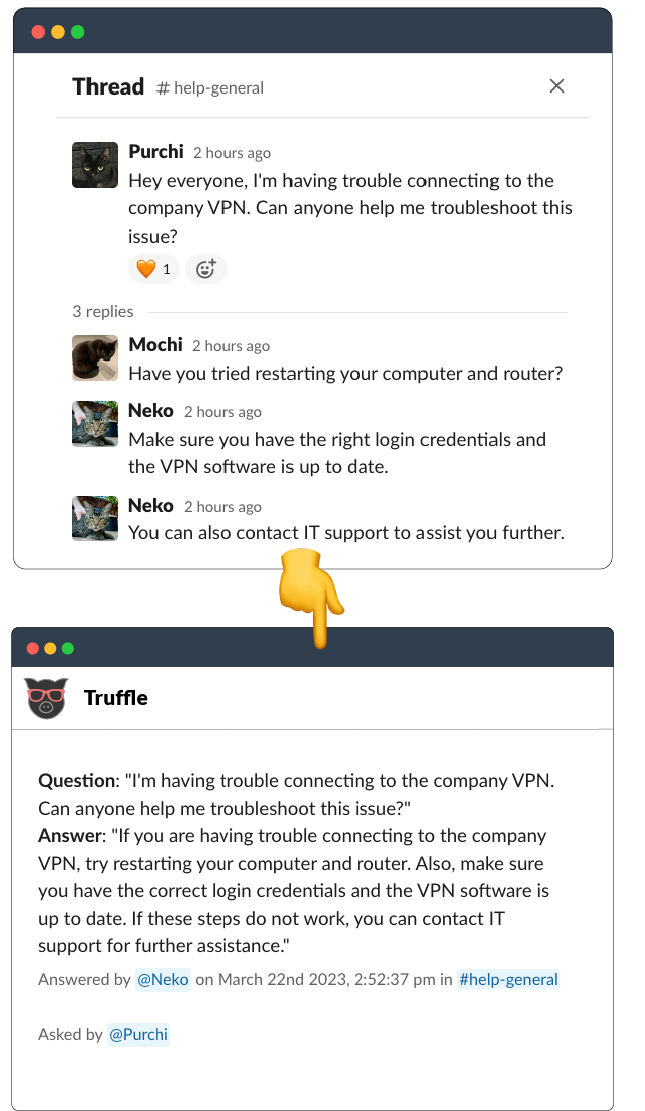 Question Answering
Just as before, Truffle will keep an eye out for questions asked in the channels it is installed to. Now, instead of only providing a thread link to help answer your question, Truffle generates a unique answer based on the knowledge it has built up. This is a big improvement, since the full context of the question is now taken into account when giving an answer, and multiple pieces of knowledge can be included in the response.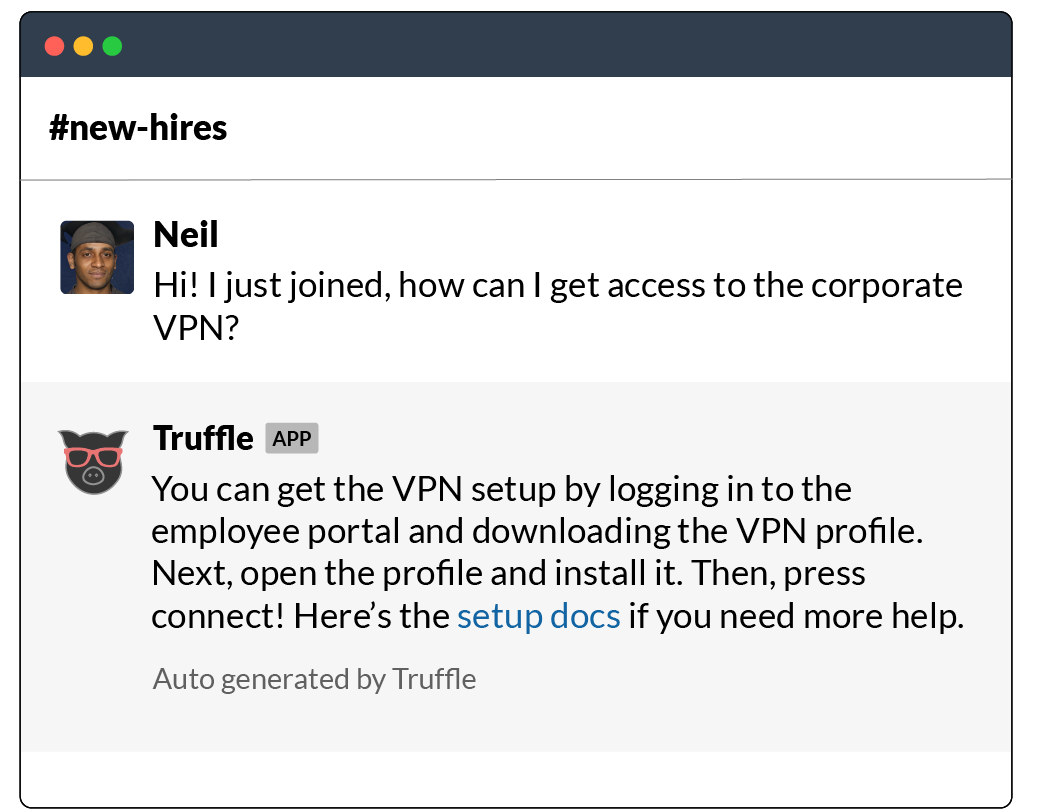 The user can accept or reject the answer, and if the given answer is not satisfactory, Truffle provides more answers to choose from. Using the accepted answer, Truffle further improves its knowledge.
Knowledge Search
In the Home tab, you can search for items in your knowledge base. Just type your query and it will search across all the important items it has found across channels. This is really useful for accessing cross-channel knowledge and finding subject matter experts.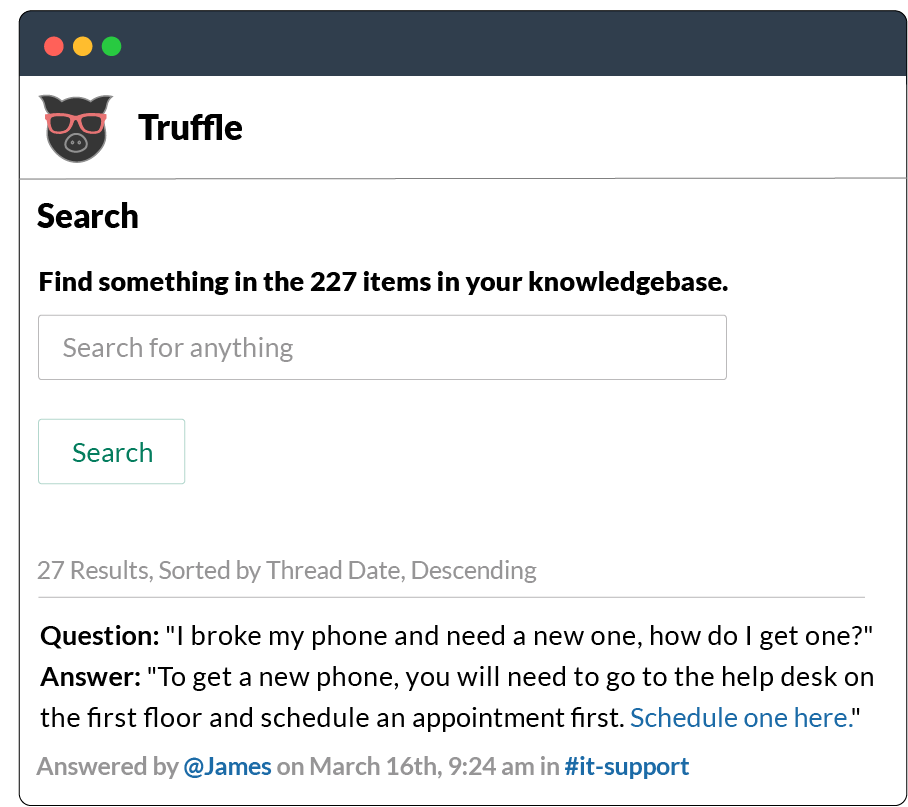 Manually Add Questions and Answers
Heading back to the Home tab, let's check out the new "Add Question and Answer" feature. Click on that, and you can add a frequently asked question and the answer to that question, as well as add channels that answer is relevant to.
Home Tab and Messages
The redesigned Home Tab is your starting point for managing Truffle. You can find it by opening the Truffle app on your Slack sidebar. If you're the installing user or added as an admin for Truffle, now you can manage the channels Truffle belongs to, right on the home tab.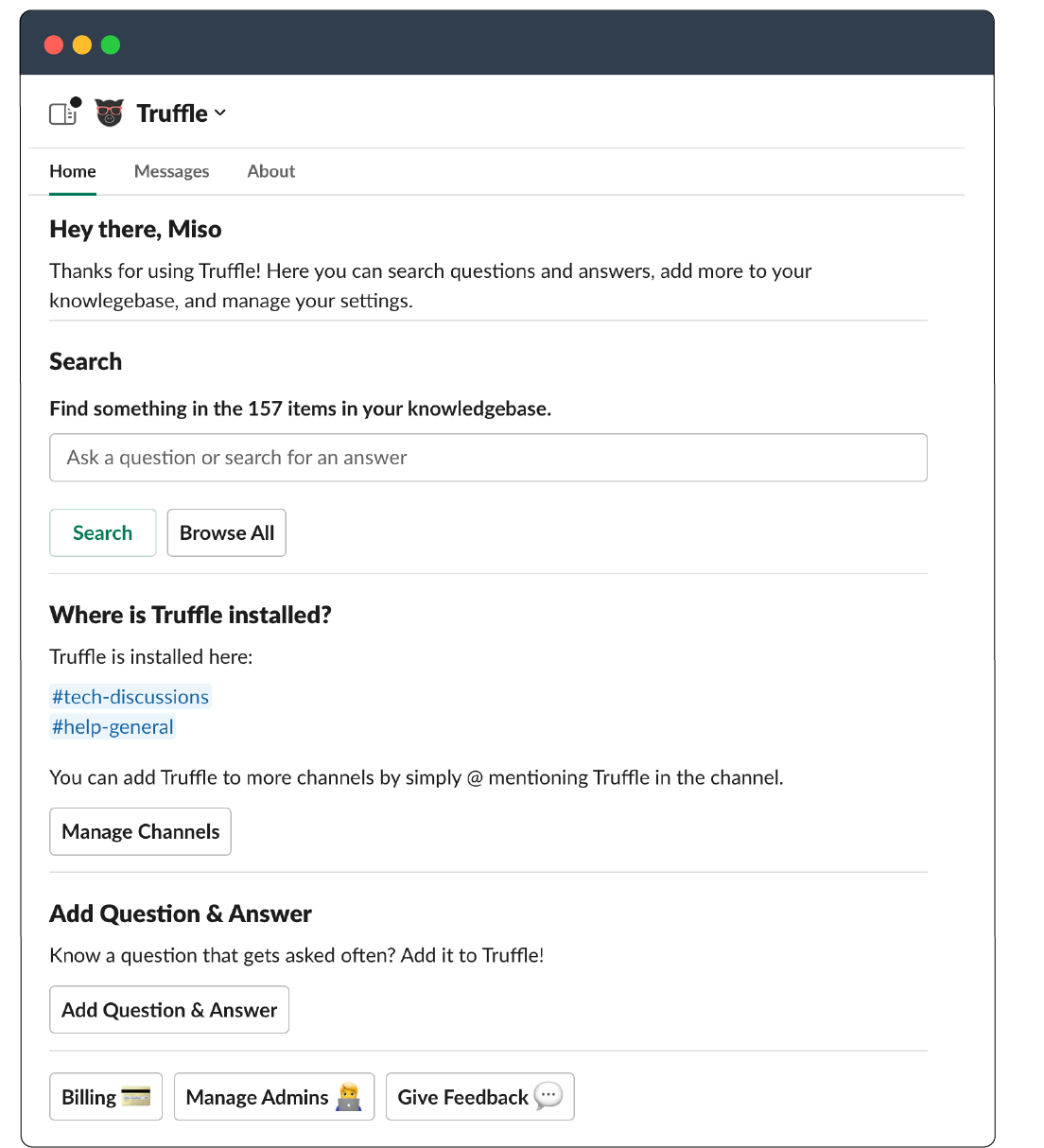 Changes to Billing
Truffle is now billed on a per-channel basis. We are no longer able to offer a free plan by default to users, though free licenses are available to community Slack channels on request. There is a 14-day free trial that will activate automatically upon install, with no payment necessary. You can easily manage your subscription quantity and billing preferences by clicking on the "Billing" button in the home screen. Here you can easily increase or decrease your subscription, or switch your billing cycle.
If you're interested in sharing the responsibility for billing, just click the "Manage Admins", and you can add or remove members who will receive notifications regarding billing, and allow them to manage channels Truffle is installed to.
Feedback
So, what do you think? Give us some feedback! You can now give feedback about the product or just say hi by clicking the "Give Feedback" button at the bottom of the home tab.
Get Truffle for your Team!
Truffle AI is a very exciting release, utilizing the latest advances in AI and search technology. It's a big leap in helping your team be more productive and get the answers they need, instantly! See what Truffle can do for your team and start your free trial now!